If the end of 2021 felt more like a race to the finish line than anything else, you're not alone. Last year for a lot of businesses was just about getting it done – but now that we're back on board for a new year, it's time to harness all that resolution-y motivation in the air and give your eCommerce business some love.
As the world is starting to get on with "normal" life, it's anticipated that the eCommerce surge will begin to slow a little as we spend less time cooped up on our devices and more time trying to remember how to interact with other human beings. So, you can't just rely on some well-targeted ads and a good business idea in 2022 – you'll need to come up with some strategies to keep your growth trending upwards.
While this is definitely easier said than done, sometimes the hardest part is just knowing where to start. Our tip? There's no need to reinvent the wheel when it comes to eCommerce. In fact, some of the best success in this industry usually just comes from being able to pick up on emerging trends (that suit your brand, of course) and ride that wave through its peak before starting the process anew.
Paired with the fundamental principles of online retail that have cemented themselves in place over recent years, you've got a solid approach that can help get the ball rolling for you.
So, we're here to inspire you with our picks for the 2022 eCommerce trends that'll take the industry by storm.
Subscription services
In a highly competitive online retail landscape, how do you lock in revenue and grow customers' lifetime value? Turn your one-off purchase into a subscription and become ingrained into your buyers' daily lives.
Wind back the clock a few years, and subscriptions were a fairly niche offering. But lock people down for two years and take away their shopping options, and suddenly subscriptions couldn't come on the market fast enough.
What we like about the subscription model – it improves your ability to forecast across a few different areas of your business, grows affinity within your purchaser database and increases awareness across your offering. Plus, it's a direct line to a core set of customers, and can be a great way to soft-launch new products and get feedback before taking a big business leap.
Whether it's an autofill subscription on daily items that have a short purchase cycle or a curated service that allows subscribers to trial new products every month or other month, make sure you lead with the value they'll get out of it – and offer some kind of incentive to stay subscribed and boost your retention rates.
Multiple customer service touchpoints
Another scalp claimed by the pandemic – the idea of 'business hours.' It's not good enough to have your customer service email manned Monday – Friday, 9-5pm anymore. Let's be honest, it's not good enough to just have a customer service email anymore.
Customer service is the latest thing that we expect 'on demand,' and can play a pretty crucial role in converting web traffic into purchasers, too.
Consider where your customers are hanging out, where your enquiries come from at the moment, and where your bottlenecks are – then look for (ideally automated) solutions for these touchpoints.
Maybe it's making your FAQs more prominent in your navigation, and updating this content with the DMs you receive most regularly. Perhaps it's creating an automated sequence for your social channels and installing a chatbot on your site.
A late arrival to the party in 2021 was Apple's Business Chat, giving your customers a branded experience in the Messages app they use every day and pulling in features like Apple Pay allow for purchases right there in your chat.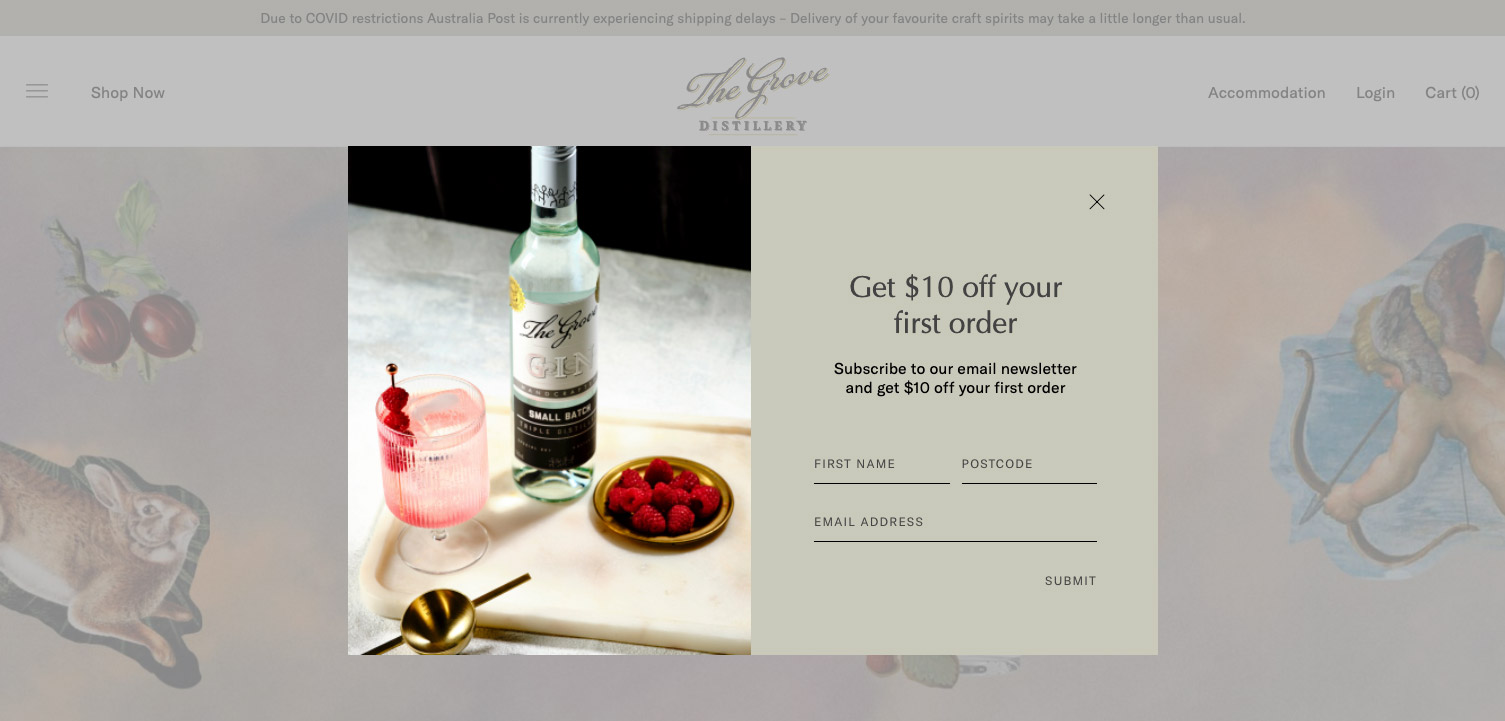 Grow your email database, nurture it and mine revenue.
Increased Emphasis on Owned Audiences
2021 marked the beginning of a new era in terms of data tracking and user privacy with Apple's iOS 14.5 update limiting what information can pass back to businesses from Apple devices. While that's great for us as consumers, if you're advertising on social platforms or have an app – chances are, your life got significantly harder.
While website data will never be the same, one positive we came to realise last year is the power of building your database. That's only going to become more important in 2022 as growth on platforms like Facebook and Instagram stagnates and the advertising auctions become more competitive.
Make sure it's easy for new visitors to sign up to your mailing list when they hit your site, and sweeten the deal with an offer to increase conversion. Depending on what email marketing tool you're using, this might even integrate directly with your eCommerce platform making it really easy to set up segmented email flows and to re-engage people who sign up but don't use their offer.
That eCommerce integration also extends to social platforms like Facebook and TikTok, meaning you can leverage your database for targeting in campaigns or to find similar users for prospecting.
Social as a Sales Channel
Another benefit of that integration – it's never been easier to link your product catalogue to your social channels, and if you're not taking advantage of social shopping? You're a bit behind the 8-ball when it comes to 2022 eCommerce trends, my friend.
Within the Instagram app, shopping now has a dedicated tab in the navigation and the platform also launched hyperlinked product tags in image captions late last year. From UGC to iPhone pictures right through to campaign photography, tag your products and build a living photo library that new customers can explore.
Your shop is also linked on your profile, and can be curated into seasonal or trending collections to make the navigation super user-friendly. Whether it's a new collection you've launched, a handpicked selection of items for an occasion like Mother's Day or your best sellers, put your best foot forward with collections rather than leaving it to the user to scroll through your entire catalogue.
TikTok shopping is on the horizon, too – launched in the US and the UK last year as part of the platform's partnership with Shopify, this feature has been lapped up by brands with a core gen Z audience. Keep your eye on Shopify's TikTok channel for news around the Australian launch in 2022.
If you've made it this far, well done – you're clearly keen to kick some serious arse with 2022 eCommerce trends this year. As a bonus, here are two evergreen principles that are low-hanging fruit to take a look at now:
A Simplified User Journey
Remember the days when you used to order things from a catalogue over the phone? Yeah, me neither. It's one of many relics left in the dust as the balance of power has shifted towards the consumer and their convenience, and by the looks of things we're headed deeper down this rabbit hole.
Take the new year as a time to audit your user journey and see where you can cull unnecessary clicks along the way.
If your product comes in multiple colourways for example, trial listing the different colours as a dropdown option on a singular product page rather than listing them all individually.
If you sell separates (think swimwear, sleepwear or lingerie) make sure the related product pages are all linked – hell, suggest them – to decrease the number of clicks your user has to make, and increase their cart value while you're at it.
Use Google's Autofill and Place Autocomplete APIs to pre-populate users' information at the checkout – if you've ever had to type out your full details when trying to buy something, you'll know how much of a time drainer this can be.
Beef Out Your Automation
Most eCommerce platforms come out of the box with a heap of automation options both for your website and your email marketing that can boost conversion, customer feedback and lifetime value.
Take some time to poke around the back end of your platform and look for ways you can optimise the user experience with automated functionalities like:
• Loyalty discounts for your most engaged customers, or re-engagement offers for those who haven't purchased in a while
• Back in stock notifications for sold-out items
• Requesting a review post-purchase and displaying these reviews on your site as part of social proof
• Pulling in social images to use UGC as part of your product imagery
• Notify customers if an item they've looked at in the last few weeks has since gone on sale
• More personalised confirmation emails that offer the user more value than just 'your order has been received'
By no means do you have to give all these 2022 eCommerce trends a go to have a successful year – think of these as your first ports of call if you're looking for new ideas and strategies to try. And if you need a bit more hands-on help (there's only so much we can do via blog), we're just a few clicks away – reach out to us here and we can set up a Zoom to see how The Natives can help.